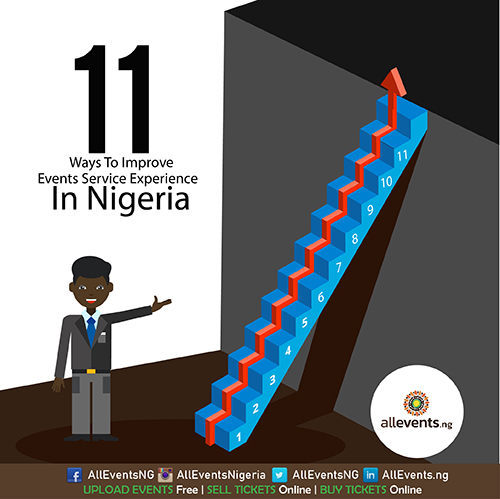 11 Ways To Improve Event Service Experience In Nigeria
Organizing a one-off or a continuous event in Nigeria? You need to pay extra attention to the event service experience of your attendees before, during and after the event.
This is not a very common event management culture here in Nigeria but it would really go a long way in creating a memorable experience.
Doing this implies that you need to ensure that your attendees enjoy the best service, otherwise you would have a harvest of bitter attendees who are going to voice out their complaints to anyone who cares to listen. This, in turn, would have a devastating rippling effect on the organizer or attendance of subsequent editions. Here are a few things you need to do if you want to improve service experience …
PRE-EVENT
1. Ensure that all your promotional materials, including images of your event that you upload on Allevent.ng, are ready weeks prior to the scheduled date. Always verify that all the details on these material (including your website, social media channels, email newsletters) are helpful and accurate. The tone of language used should be reflective of the focus of the event.
2. What do you want people to feel, think or say during and after the event? This would help you plan the kind of touches you want to add that would create an exceptional service experience. You can also use the AllEvents Selfie Mirror Booth to create exceptional event service.
3. Train and keep your team members well-informed, and every other person that would be dealing directly with attendees, about appropriate ways to attend to them. This is very important.
4. There should always be a dedicated contact line or email that people can use to get more information or clarify certain things about your event. These contacts should be accessible at least during the weekdays and maybe weekends too. You can decide the time to make the lines open for calls and emails.
DURING EVENT
5. First impression matters a lot! As cliché as this might sound it is important that you always make a good first impression. Ensure the environment is tidy and reflective of the focus and projected ambience of the event. Pay attention to every single detail.
6. Asides persons handling registration at the entrance, station well-dressed and polite persons at the entrance that will welcome attendees and assist with getting directions around the venue location or any other form of assistance. This would make them feel at home and not like they came to the wrong place. You can also use the AllEvents Selfie Mirror Booth to make the event fun and interactive. It can be used to play game, take pictures, sign on pictures with event theme, share on social media and so on.
7. Ensure that every team member is well informed about how to interact with attendees in order to influence the perceived impression of the event or the organizers. This is very important.
8. You and your team members should be very attentive to attendees. Give them your attention when they have issues to clarify or questions to ask. This would make them feel like they are valued.
9. While planning, try to anticipate the possible needs of the attendees and put measures in place that will sufficiently address those needs.
AFTER EVENT
10. This is where organizers in Nigeria often miss it. The end of an event is as important as the beginning. So, whatever tempo you use to start it should be the same tempo that you use to end it in grand style.
11. Get feedback and always thank your attendees. This is a way to show that you care about their opinions as well as appreciate the time they took or money they spent. This can leave a lasting impression on them. You can also use the AllEvents Selfie Mirror Booth to get feedback from attendees via email database collected. Organizers can also access the demographical analysis of all attendees through the database collected.
So, when next you have an event to plan in Nigeria, you can always leverage on the success of the previous ones and see how to further improve the event service experience of attendees. And just in case you are wondering if there's more that giving a great service can offer, check out this post on: How To Sell Out Your Next Event in Nigeria