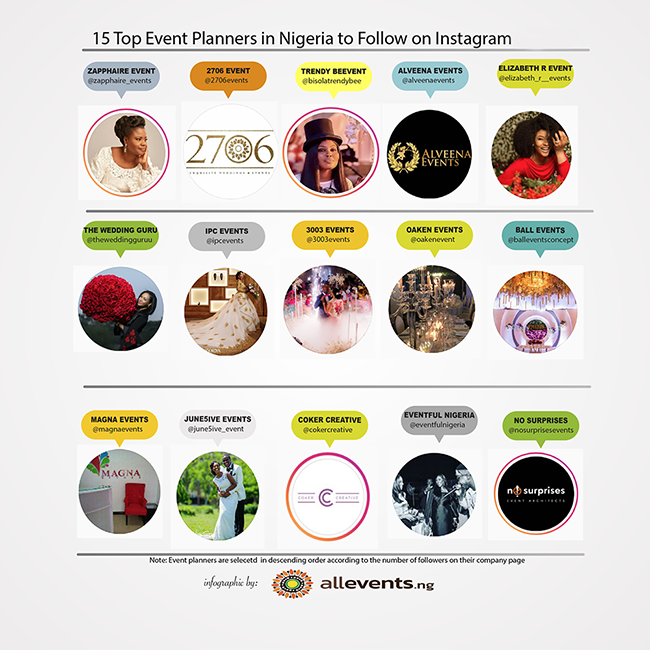 15 Top Event Planners in Nigeria to Follow on Instagram in 2021
27/05/2021
The event planning industry in Nigeria can be a really hard challenge to break into because it requires more than how great your knowledge of the event is, but rather the passion for the profession, attention to detail, experience, networking, creativity, good management and ability to work long hours.
Event planners coordinate all kind of tasks that revolve around the success of the event project. The project may be Wedding, Burial or Naming ceremony planning, Festival planning, Business or Conference planning, Fundraising planning, Non-profit event planning or College Alumni planning.
When it comes to planning an outstanding event in Nigeria, some names easily come to mind. These names are the set of people that have invested a lot of energy, time and total dedication thus turning this sector of the industry into million dollar industry. These set of people have a deep interest in the industry and stuck with it long enough to earn their mark. They have handled glamorous events and have a record of successful achievements. 
Apart from the qualities mentioned above, these creative minds have had many successful events which they shared the outcome of the ideas on their Instagram social media page.
Looking at the Instagram handle of top event planners across the world; from USA @mindyweiss, @prestonrbailey, @internationaleventco, @out_inthefield, to India @indianstreetfashion, @indianweddingbuzz. On most of these Instagram handles, you will also observe the unique identity and cultural values which are infused into their Instagram feeds, which the event planners in Nigeria have been able to show to the world and are competing quite well in the industry.
Here are the top 15 event planners in Nigeria, listed according to the number of followership they have on Instagram. They are outstanding event industry leaders and tastemakers in Nigeria, whose deciding factor is not only money but creativity and customer service with providing a unique experience to attendees ;
Zapphaire Event: is one of the most sought-after celebrity wedding and planning company in Nigeria who has been in the industry since 2003. The company is known for detail and quality service focusing on Wedding, Special events and Corporate events.  The company has been consistent and proved through creativity and attention to details over the years as one of the leading event planners in Nigeria. You can follow the company Instagram at @zapphaire_events.
2706 Events: is an exceptional event planner who shares inspiration designs and amazing decor. The company also incorporate the architectural design plan of the event venue and layout and share it on their company social profile with detail sitting arrangement. Follow them at @2706events.
Trendy Beevents: is an event planner that showcases their creativity through unique themes and layouts from the event project they have done in the past. Follow their company for some great ideas on her Instagram page at @bisolatrendybee.
Alveena Events: Its a unique decor and management event service company with creative innovation through layering of colours, beautiful floral display textures and specialise in creating a highly customised floor with the flowery pattern and high-end design at the event venue. Check out their Instagram handle @Alveenaevents.
Elizabeth R Event: This is an event company with over 15 years of experience. A company that can differentiate between ordinary and exceptional and a veteran among the event planners in Nigeria that stick out and continually re-define the event industry. To find more inspiration for any of your event needs, check their Instagram handle at @elizabeth_r_events.
The Wedding guru: Simply special in creative design for corporate and wedding event with lots of floral artistry integration, props, and styling that add gorgeous colours to the event venue.  Their Instagram page is definitely one you will love to check out if you enjoy some decent Instagram imagery. The proof is in the pictures. Check them out at @theweddingguruu.
IPC Events: This is a company with unique and mind-blowing event experiences with a well thought-through design that will reflect the best version of the client vision. To get more inspiration on invitation cards to the decor and themes, kindly follow them at @ipcevents. 
3003 Events: This is a premium event planning and management company with excellent service with a proven track of personalised service delivery. They have a unique touch and style to incorporate local culture combined with the popular trend to bring out a timeless expression. For more adventure and inspiration on their past project, follow their Instagram at @3003events.
Oaken Events: Produce breathtaking experiences that capture the occasion and leave a lingering sense of awe with a narrative flair and exquisite attention to detail. In addition to planning events, Oakenevent also organises network with others in the event industry. Kindly follow them at @oakenevent. 
Ball Events: The company has been a leader in the event industry in Nigeria for more than 10 years specialising within a full-service luxury wedding, event venue design and event planning for corporate organisations. They redefine event space through their creative ideal with flowers, suspended on giant sparkling crystals and complement with design light to give a lush and exotic look. For more creative designs kindly follow their Instagram page at @balleventsconcepts.
Magna Events: If you are searching for the best specialists that will make your big event perfect, this is definitely one company worth checking on. This is evident through some of the stunning work they have done in the past. They share some of the captured moments behind the scenes, traditional outfits displayed captures by professionally taken pictures on their Instagram page at @magnaevents. 
June5ive Events: Has been providing excellent service within social and corporate events since 2011 creating unique themes and seasonal parties for their clients. Follow their Instagram handle at @june5ive_events.
Coker Creative: Is a capable event planner, they specialise in creative styling of each event. Turning each event into a completely unique experience. From calligraphed wedding invitation to meticulously styled tables. Check out their previous project on their Instagram feed at @cokercreative. 
Eventful: This company has worked with everyone and is a major force within the event company in Nigeria and have been a leader in the event industry since 2002, specialising in event management for corporate and individual clients of discerning taste. Follow their Instagram page at @eventfulnigeria. 
No Surprises Event: This is a company that can execute the perfect corporate event. One with the most respected event design production and management in Nigeria and that has mastered the art of discretion and the ability to create lavish and spectacle event on an international level. Follow their work at @nosurprisesevents.
Please Note: The Event planners are selected in descending order according to the numbers of followers on their company page and NOT according to the number of years in the business. We may have missed some brilliant event planners which ordinarily their company name should appear here, if you know such a company, kindly write to us at info@allevents.ng we will be more than happy to improve the list