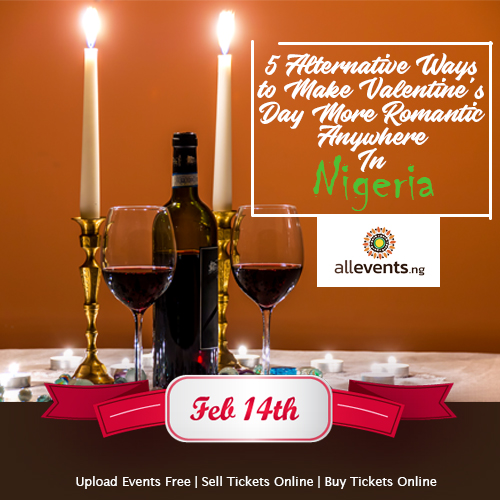 5 Alternative Ways to Make Valentine's Day More Romantic anywhere in Nigeria
There are countless typical reasons anyone might want to give in order to escape the pressure of Valentine's day. This year most Nigerian men have been rejoicing about two main activities that would be clashing with this year's valentine's day.
First is the Ash Wednesday and the second is the football match (champions league). And women that have been dreaming about this glorious day are not having it.
But who says you can't enjoy these main activities and still have an awesome valentine's day with your significant other? Well… check out these alternative ways both sexes can express their love on this day anywhere in Nigeria
1. Have a spa day! Give the body a yummy treat.
You can choose to either walk into a spa room or create yours within the walls of your home to personalize this valentine's day. If you are opting for the former, you can look out for great spa deals or spa gift cards in Nigeria that can be redeemed for amazing back rubs, body massages and so on. If you are deciding to go with the latter, pick up bubble bath, body scrub, candles and whatever appeals to your significant other to create a spa day at home. Set the mood by lighting candles around the bathroom instead of the normal light, set a chilled bottle of wine by the side (make sure it's easily accessible while using the bathtub), put copies of your significant other's favorite magazines and maybe some box of chocolates.
2. Fun night out!
This valentine's day falls on a Wednesday so if other alternative ideas are not going to work, you can opt for a fun night out with your significant other if he/she is a night time lover. Major cities in Nigeria, like Lagos, Abuja, Port Harcourt, Ibadan, have interesting fun spots to hang out at night. You can opt for an upscale and exclusive club or any fun spot to experience an awesome nightlife experience.
3. Watch the Champions League together
Yes! Don't roll your eyes just yet. Valentine's day is all about showing that you still care about persons you love. Going out of your way or your usual routine to please your significant other shows that you really care. It understandable that some women (even men) are not football fans or that they just don't understand why some grown men are running after a ball. But you can make simple nice gestures like wearing your significant other's favorite team's jersey, getting favorite snacks, gathering his/her other friends to watch the match in your home or in a place, pay attention (as much as you can) and chip in some comments or cheer when necessary.
4. Celebrate with a half day planned out
You can choose to close from work a little bit earlier than your usual time to have enough time to spend out together. Most fun spots and public places in major cities in Nigeria would probably be changed to suit the season (valentine's day). You both can take walks in the park, go for rock climbing, have a nicely planned picnic, play out door games. But be sure that they are things that your significant other wants to do, but for whatever reason doesn't do. So that you both can enjoy it.
5. Make the day all about your significant other
This is tilting towards being a one-sided valentine's day but doing this might earn you some future 'love coupons' that you can cash out later. Taking one day to give your significant other all the attention he/she can even handle would mean a lot to the person. The trick is to first list out all the things they like, need or possibly want (be sure you can afford to do it in one day) and creatively plan each to come out as little surprises throughout the day. You can buy or make meals of his/her dreams, rent movies that are their favorite, his/her music and so on. Just keep surprising them throughout the day!
Are you planning your next event soon? You might find this helpful:  How To Sell Out Your Next Event in Nigeria and this: Boost Your Brand With Creative Event Giveaway in Nigeria