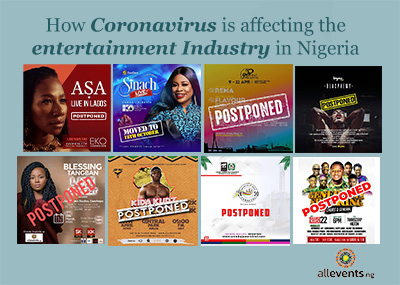 How Coronavirus is Affecting the Entertainment Industry in Nigeria.
12/04/2020
The Coronavirus commonly referred to as COVID-19 outbreak is affecting the entertainment industry across the globe and Nigeria is not left out in this sweep! Thousands of people have lost their lives through this Coronavirus pandemic and to prevent the further spread of the virus, citizens are advised to explore the option of social distancing and engaging the use of basic hygiene while the entertainment industry takes a deep halt with events such as live concert, movie premier, seminar & conferences, sport and festivals have been postponed or cancelled.
In the past few weeks, the effect of the COVID-19 on the entertainment industry and sport industry has taken regrettably a total new turn with either outright event cancellation, postponed or perform to an empty crowd. Here are few football event references cancelled or postponed across the globe:
The Nigeria Professional Football League suspend the ongoing 2019/2020 season league till further notice.
The African Football Federation has postponed the African Champion 2020 soccer tournament scheduled to hold in Cameroon for April indefinitely
The European Footballs Governing body UEFA has postponed tournament which was supposed to start from 12th June to 12th July 2020 till 11th June to 11th July 2021.
UEFA also postponed the remaining Champion league matches indefinitely.
Asian Football Confederation has also postponed Asian World Cup qualifying matches in March and June
The Olympic Games 2020 set to begin in Tokyo on 24th July has been postponed until 2021 (Source: Aljazeera)
The dramatic effect of COVID-19 on the entertainment Industry has led to the cancellation of several entertainment events across the world, such as:
The new James Bond movie "No time to die" which was originally scheduled to be released worldwide for April 2020 has been postponed till 12th November 2020.
CinemaCon 2020 which was supposed to take place between March 30th till 2nd April in Las Vegas with over 5,000 attendees from over 80 countries has been cancelled 
The 73rd edition of Cannes Film Festival which was supposed to take place between 12th to 23rd May 2020 has been postponed till the end of June and beginning of July 2020 
In India, Sooryavanshi's, an action film release has been postponed indefinitely because of the COVID-19 spreads
However, here is how the COVID-19 has affected the different sectors of entertainment industry in Nigeria
List of cancelled live events and Concert
Asa Lucid Tour 2020 in Lagos & Abuja postponed
Asa Lucid tour 2020 which was scheduled for 11th April at Eko Convection Centre Lagos and 13th April at Congress Hall Transcorp Hilton Abuja has been postponed. Here is a statement from the Asa official Instagram handle "Due to the developing Covid-19 situation and for your health and safety, l am sad to announce that l will be rescheduling my shows in London, on March 29th, Lagos April 11th and Abuja April 13th. All purchased tickets will be duly refunded, and a new date will be announced as soon as possible. Please follow all health and safety precautions as advised. All my love, Asa"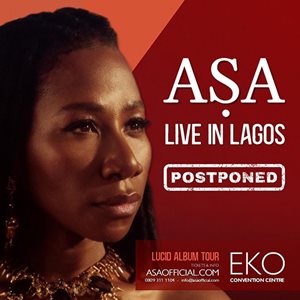 Brymo Blasphemy Live Concert at Terra Kulture Lagos postponed
Similarly, Brymo Olawale Ashimi popularly known as Brymo, one of Nigerian exceptional musician took to his Instagram page to announce his event being postponed due to thecoronavirus outbreak. In a statement released on social media, Brymo wrote "Due to the global pandemic spread of COVID-19 and in effort to protect my people, I am announcing the postponement of my concert #BLASPHEMY to a later date. New date will be announced soon. All tickets will remain valid for the rescheduled date. In the meantime, please remain safe. Love, Brymo".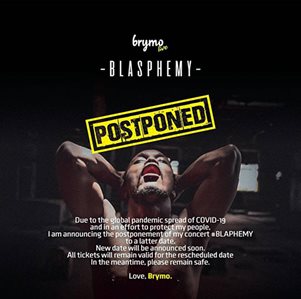 Sinach Live in concert at Eko Convention Centre Lagos Postponed 18th Oct. 2020
Sinach Live in Concert 30 Years Celebration of Worship (SLIC30 2020) at Eko Hotel and Suites, Victoria Island, Lagos, has been shifted from 22nd March 2020  to 18th October 2020 at the same Venue.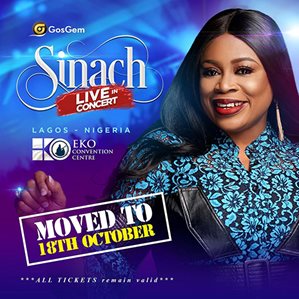 Kida Kudz Homecoming Abuja postponed.
The kida Kudz event which was supposed to take place 4th April 2020 at Central Park Abuja was officially cancelled on 21st March 2020. No new date fix for now!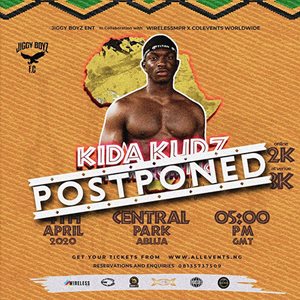 Blessing Tangban Live in concert Abuja postponed
The event was postponed from 29th March 2020 till further notice.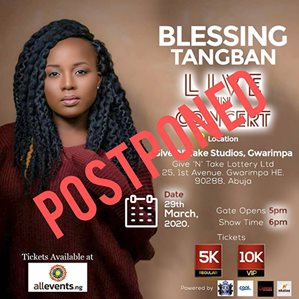 List of cancelled Festival and Carnival
Gidi Cultural Fest postponed till 3rd- 4th October 2020
Gidi cultural festival is a multi-day festival filled with live entertainment from a line-up of the best African and international acts which include some of the best emerging artists and diverse range of African food vendors. This year event that was scheduled for 9th till 11thApril at Cricket pitch Tafawa Balewa Square Lagos has been rescheduled to 3rd till 4thOctober 2020 at the same venue.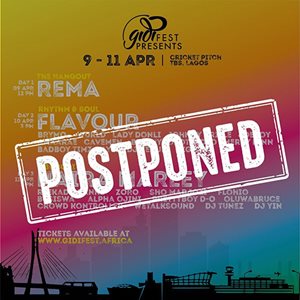 University of Abuja Carnival postponed, no new date yet!
University of Abuja Carnival which was supposed to take place on 25th March 2020 has been postponed following the directive of the Federal Government of Nigeria to shut down all schools because of the COVID-19 pandemic. No new date fix yet!
The event was cancelled via a statement released on their official Instagram page that reads "Official Notice!!! Unfortunately due to the Corona virus pandemic, the Uniabuja Carnival has been postponed as institution have been closed down for now. We hope and pray that a cure and solution to the pandemic will be found soon…."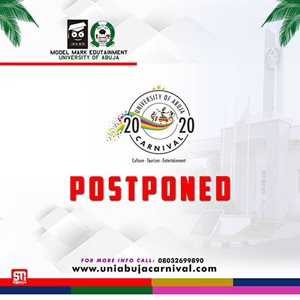 List of cancelled Comedy Events
I Go Dye Standing kinging with the kings at Benin Postponed
Comedian IgoDye announced in a statement on 18th March via his Instagram page, the postponement of his event which was supposed to take place on 12th April 2020 at Best Western Homeville GRA in Benin, Edo State.
"Press release due to the global threats from #Coronavirus #Covid-19, my forthcoming silver anniversary on stage #igidyestanding, kinging with kings platinum edition has been postponed" New date yet! Updates can be found on Instagram 
General speaking with Chuks D General at Transcorp Hilton Abuja Postponed
The event was supposed to take place on 22nd March 2020 at Congress Hall of Transcorp Hilton Abuja, but it has now been postponed due to the coronavirus pandemic. Here is official statement from the organiser "I trust this meets you. Following the update of COVID-19 pandemic and the new 3 cases confirmed in Abuja, I regret to announce the POSTPONEMENT of GENERALLY SPEAKING 5 in Abuja to a new date that will be announced later. I'm very sorry for any inconveniences this may have caused you. NOTE Pls Tickets already purchased remains VALID on the later date that will be announced"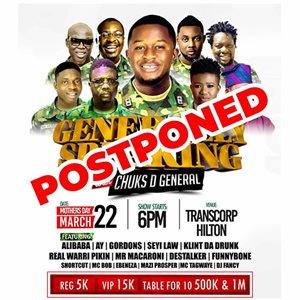 Kennyblaq State of Mind Tour postponed
The outbreak of the coronavirus has put Kennyblaq brands, who was already having their awareness tour going on to a halt in various state in Nigeria. This will in no doubt disrupt their set goal on audience target. He has done two successful state tour and had to put on hold the remaining tour due to COVID-19.  He wrote the following on his Instagram page "We appreciate the love and calls from all locations from our friends and family all over the country during our tour period. We are currently putting the remaining part of our tour on hold till we all can safely converge and have fun together without the fear of being sick or falling prey to the COVID-19 pandemic"
List of cancelled Theatre and Stage Play
The Alhaji Play postponed
The live play of sexually active and polygamous Alhaji, which was supposed to be on every Sunday in March (1st, 8th, 15th, 22nd, 29th) at Terra Kulture Lagos has been cancelled. Here is the official statement from Terra Kulture, the venue Instagram page "In the strictest obedience to the directive of the Lagos State Government as regards the prevention of the spread of the Coronavirus and in protection of our audience and fans, we are forced to call off the play, ALHAJI. We deeply regret any inconvenience this may cause and trust that you understand that in seasons like this, we must all pull together, even when it is at great pain. We hope to see you at the Terra Kulture Arena for other plays when all this blows over. Thank you indeed for your support and understanding. God bless you and please keep safe, observe all the health advice broadcast by government and qualified professionals. God keep us all"
Things fall Apart stage play postponed
The stage play "Things Fall Apart" which was supposed to take place on 21st and 22ndMarch at Export House Maintama Abuja has been cancelled.
List of cancelled Business events and Exhibition
Agrofood and Plastprintpack Nigeria 2020 postponed to 25th- 27th August
The Agrofood and Plastprintpack Nigeria which is originally scheduled for 24th to 26th March 2020 at Landmark centre Lagos was postponed to 25th- 27th August. Venue remain the same. More information can be found both on the website and instagram account. Agrofood website  and Agrofood Instagram
The larger the crowd that comes together for an event, the better the margin in revenue generation for the event organisers! But with the effect of Coronavirus and the social distance precautionary measures, couple with the cancellation, suspension or postponement of events, the event industry will witness a deep decline in revenue generation.
The event business involves different stakeholders and heavy investment. Some of these stakeholders are:
Employees / Team (either fully employed or on part time)
Venue operators
Fans (Consumers)
Entertainers
Production team (consumer product)
Sponsors
Media houses (Broadcasters)
Marketing and Public relation
Vendors
Planners
Safety & Medical team
Tickets sales agency
Each of the stakeholders mentioned above involve capital (money) and when the amount invested (projected revenue) did not match the outcome (actual sales), because of lockdown due to the coronavirus outbreak and hence reduction in numbers of people allowed to gather together, consumers ( the fans) are expected to have lower spending outcome.
The consumers spending comes from the followings: cost of movement (transportation), visit to bars, visit to restaurants, booking of hotel, visit to malls/vendors, visit to museum or historic places before or after the event, buying of souvenir etc.
The outright cancellation or postponement will not only disrupt the scheduled coverage of the event but also sponsorship deal, advertisement arrangement, marketing deal, publication deal and the consumers spending.
The ripple effect of COVID-19 on entertainment industry
The outbreak of the Covid-19 has abruptly paralysed the overall income of all the stakeholders mentioned above which will make them to reduce the strength of the work force they have.
Isolation, social distancing or outright ban in public gathering will reduce the spread of the disease but will also reduce the consumers spending outside home and this also will reduce the advertising spending. However, the stay at home will increase the online media consumption such as video on demand, download of apps and online streaming like Netflix.
In summary the most important thing for the entertainment industry to do is to work with relevant government agencies NCDC and health official to help slow down the spread of the COVID-19 by staying at home, maintain basic hygiene and follow WHO advice on basic protective measure against the virus and stay safe. Read more about how to stay save during COVID-19 in Nigeria
We hope this moment will pass and the event industry will bounce back fully soon!
For any additional information kindly write to us info@allevents.ng