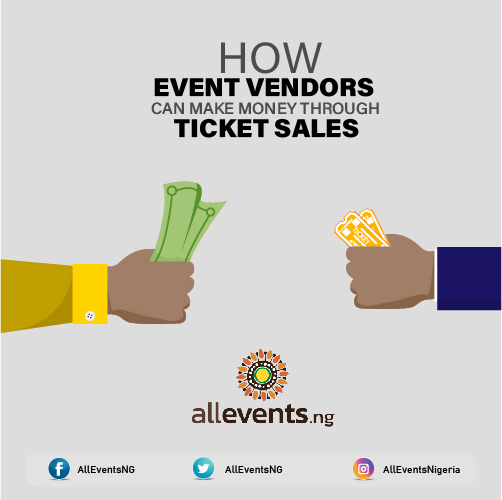 How Event Vendor Can Make Money Through Tickets Sales
If you have identified hot events in Nigeria that you want to sell their tickets, you also need a workable plan for increasing ticket sales so that you can make more money since you get your commission from ticket sales. And the more you sell as an event vendor the more money you make based on the commission agreed.
Use Event Marketing Platform
This is one of the easiest ways to pocket more revenue from ticket sales. There are a lot of event platform in Nigeria that offers this, one of such is AllEvents.ng which allows you to upload event your event free and then promote it to increase ticket sales as an event vendor.
Use Social Media
The importance of social media cannot be over emphasized. Use social media to promote the event to increase ticket sales. If you don't have an engaging social media account, you can make use of social media influencers to link people with the URL for purchasing the event ticket. Or you can decide to run social media adverts to boost ticket sales as well (that's if you have a budget for it).
Build a List of Regular Ticket Buyers
This might take a while but having a list of people who frequently buy event tickets from you would be a good starting point to increase ticket sales as an event vendor. You can build a list by collating numbers and/ or emails of people who registered to purchase event tickets in Nigeria through you. And then keep growing it. So when next you have another event ticket to sell they would be the first set of persons that you would send either an email or bulk SMS to about the new event tickets that are available.
Partner with Local Stores Around
Event vendors selling tickets can partner with local stores in any part of Nigeria to increase ticket sales so they can make more profit. But they might have to share a part of their commission with those local stores. Event vendors can partner with local stores like Shoprite, beauty stores, popular cinemas and other food stores (including online stores) in very prime locations across the nation. It is important that proper research is conducted about these stores or cinemas to have an accurate data of the influx of customers that have monthly or weekly.
Sell Tickets to Groups
This would involve giving some form of incentive to people to get their attention and fire up their interest.  If it is a very hot event in Nigeria that a lot of persons are anticipating, it would be easier to convince them with an incentive (maybe a discount or meaningful gift) to purchase ticket for at least 3 to 10 persons at once. This would help event vendors increase ticket sales.
You can also read:
How to Make Your Event Vendor Happy and Get More Referral
How to organise a stand out event in Nigeria
How To Keep a Good Relationship With Event Sponsors