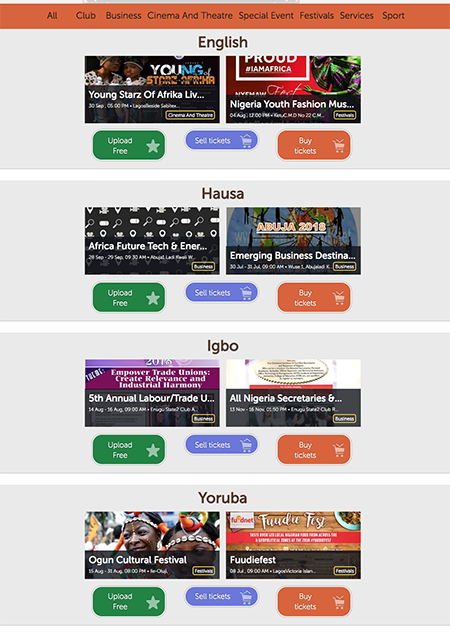 New Event Ticketing Platform with Choice to Upload in Hausa, Igbo​ or Yoruba
10/08/2018
If you are looking for the best place to buy event tickets or sell event tickets for an upcoming event in Nigeria, this article will guide you through a new event ticketing platform in Nigeria with the choice to upload event in Hausa, Igbo or Yoruba.
Event tickets sales in Nigeria is often done through offline means, which requires an event attendee to pick up their event tickets at various designated points. However, the tide is changing because of the increase in the numbers of internet users and mobile applications, people are beginning to turn to the online means of buying tickets.
While the event promoter or event organizer in Nigeria are looking for an easy and stress-free event management platform that will help increase the sales of event tickets both offline or online, the event attendee also want a platform that will offer cheap tickets prices and connect more with them. These challenges faced by event organisers and the event attendee have been resolved with the entrant of Allevents.ng which distinguish them from other ticketing platforms in Nigeria.
You do not need to learn English any longer to interact or upload event on a website! 
Allevents.ng allows event organizers and event planners in Nigeria to set the language for their event in a preferred language (Hausa, Igbo or Yoruba) apart from English which is the business language in Nigeria. Hence breaking the language barrier.
Choose how you want your event to appear: Public, Private or Private passworded
Not all event can be public. Most of the private event like Wedding, Burial, Naming Ceremony or old schoolmate gathering where you want to control the number of invited guest. This is where Allevents.ng stands out. As an event organiser, you can set your event around a group of people that can see it on the website or exclusively set the event on a passworded code which will only be accessed by the people you shared the password with on the website. You can also use the website to upload general event like Business conference, music concerts, Festival and set the visibility of the event on the public in order to attract more people to the event. 
Follow the progress of your event  tickets sales

Allevents.ng operates with a unique software that allows event organizers or event promoters in Nigeria to manage their event ticket and monitor sales remotely. They can also get real-time analytics of those buying their event ticket as well as how people are buying their event ticket.
You don't have to join queue after you buy our tickets
We provide after ticket sales support for event organizers or event promoters and reduce the burden of a long queue for event attendee at the point of entrance to the event venue.
We don't waste your time when searching for an event on our website. Search by language, region, keywords, title or category
The website is users friendly and device responsive.