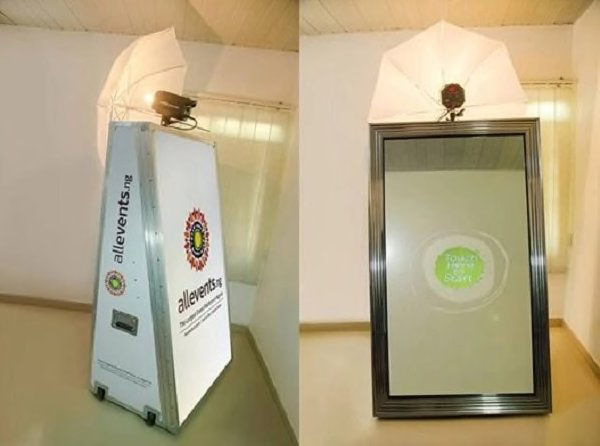 Refer Allevents Selfie Mirror Photo Booth
Turn your network contact into money-making​ opportunity!
Refer A Friend, Agent or Brand
All you need to do is refer Allevents Selfie Mirror Photo Booth, the latest tech gadget that adds fun to an event to a friend, event agent Brand to hire. It is a full-size interactive touchscreen photo booth that captures full-length photos, instantly prints pictures and gives users the additional option of sharing instantly online to their individual social media accounts. 
Make

 

sure your contact book the Allevents Selfie Mirror Photo Booth for their event (Wedding, Business summit, Burial, Festival, Concert) for a minimum of four hours a day
Your contact should send a request to info@allevents.ng or call 08077395323 and mention the name of the person that referred them
Make ₦35,000
 

Get paid immediately your contact pay for the hire of Allevents Selfie Mirror Photo Booth gadget
TERMS AND CONDITIONS
Promotion opens from 1st October to 31st October 2018

Buyers of service of Allevents Selfie Mirror Photo Booth must reside in Lagos

A service buyer outside Lagos will attract an additional fee and added to the standard price

By participating in the referral, you agree to release and hold Allevents selfie Mirror Photo Booth free and harmless of any or all losses, damages, rights, claims and action of any kind in connection with the promotion or resulting from acceptance, possession including without limitations, personal injury, death, claims based on the publicity right, defamation or invasion of privacy

Allevents Selfie mirror Photo Booth staff and their members of their immediate families are not eligible for the promotion

By participating in this promotion, all participants confirm that they understand and agree with these terms and conditions
More Allevents Selfie Mirror Photo Booth
Allevents Selfie Mirror Photo Booth is the latest and greatest in photo booth technology with highly customizable digital signage,  incredible high image quality, unique levels of interaction, instant social media share photo and photo prints. It is the perfect gadget for Weddings, Corporate events or Award Shows where unique branding, themes, messaging can be implemented and provides ultimate entertainment for guests attending your event.
How can this gadget make your event special?
The high-tech quality glass with built-in animation, photo signing, stamping, GIF and video recording features with over 200 different games to play and photo filters will create unforgettable experience and memories that go beyond time and place through the following processes:
Walk through the VIP red carpet set up and simply pose in front of the customisable animated full-length mirror.
Touch the interactive mirror screen and capture the best look with the possibility to retake until you are satisfied. The user also has the ability to sign on their picture, select an emoji that best describes their mood and insert it on the picture.
Game interaction: There is an option of where the user can play a social game on the full-length Selfie Mirror Photo Booth like Tic-Tac-Toe, Pong or enter into competitive screaming competitions on the gadget.
Photo Layout: Possibility to brand photo layout to reflect the theme of the event. The photo is a souvenir that can be taken home or shared online. Very ideal for all events.
Animated Gif or Video: Photos taken can be transformed into Gifs or video format. It can also be shared online.
Instant Print: Pictures taken can be printed immediately with a possibility for inserting a company hashtag, website link or the social media handle of your organisation.
Social Media Station: Allows guests to share their photos through their social media handle (Facebook, Instagram, Twitters, Linkedln) along with your customised message. This increases online brand awareness.
Picture through MMS or SMS: Send picture immediately on phone through MMS or SMS to family and friends.
Thank you message after the event: Send thank you message after the event for your quest for their presence or contribution at your event.
Picture Collage: Summary of all picture caption at the event with a link online or in single picture collage as a lifelong memory.
Who can use the Allevents Selfie Mirror Photo Booth?
The Selfie Mirror Photo Booth is the perfect gadget for a Corporate event, Wedding, Birthday party, Burial, Naming Ceremony, University convocation etc. to promote a brand for a corporate organisation, spread the event beyond the venue through sharing on social media or mail. It is simple to use with just a touch or movement in front of the mirror.
Why is Allevents Selfie Mirror Photo Booth Better than using Event Photographer?
Using the Allevents Selfie Mirror Photo Booth for event is a smart marketing where the equipment will collate database of all attendees creatively which will be shared with the event organiser and can be used to understand the attendees better (emails, numbers, names, ages, etc.), send them a thank you message after the event. This kind of smart marketing cannot be done with the event photographer.
Step up your branding! The exterior and interior of the Allevents Selfie Mirror Photo Booth can be branded to suit the theme of your event with every picture taken to carry your event name, theme. The instantaneous sharing of the picture will spread the information before the venue.
Data analysis, such as how many impression, reach, share, email read or open, and what social medium platform will be attached as a report after the event
How much space does it require to set up?
The Selfie Mirror Photo Booth require just a small fraction of space and can work for a party that is will hold in a room.
Who has used our service before?
Click to see work we have done with different brands
Read more about the Allevents Selfie Mirror Photo Booth
Some of the works we have done before with video
You  may find the links below very interesting:
- The most popular event that its tickets are in high demand, click to know more  
- Most popular concert with high tickets demand in Lagos this week, click to find out  
- Find out more events that just came in, click to choose      
For further information, please contact us on info@allevents.ng or 08077395322/08077395323