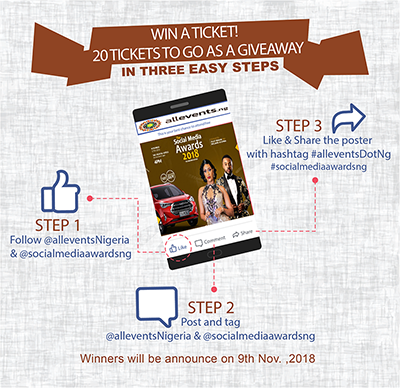 Event Tickets Giveaway in Lagos: 20 Tickets For Grab
Allevents.ng is giving out 20 tickets to lucky winners that follow the procedure below. The winners will be announced on 9th November 2018
 How to Win Tickets to This Week Event in Lagos
Step 1
• Follow @alleventsNigeria & @socialmediaawardsng on Instagram
• Follow @alleventsNg & @socialmediaawardsng on Facebook
• Follow @alleventsNg on Twitter
Step 2
• Post and Tag @alleventsNigeria on Instagram, Facebook and Twitter  
• Post and Tag @socialmediaawardsng on Instagram and Facebook
Step 3
• Like and Share hashtag #alleventsDotNg
• Like and Share hashtag #socialmediaawardsng
Terms and Conditions
Entrant must be a minimum of 18 years or above to participate in the giveaway

You must be legal residents in Nigeria

Allevents staff, its member and their immediate families are not eligible to participate in the giveaway

Entrant liking AlleventsNg and SocialMediaAwardsNg on social media must have a non-private account on their social media

The selected entrant will be contacted on Friday by 6 pm Nigeria time and the selected entrant will be required to respond within 24 hours

If entrant fails to respond within the stipulated 24 hours of notification, the entrant will lose the ticket slot and new selection will be made from the pool of qualified entrant

Giveaway prize will consist only digitised tickets and will be delivered to the entrant through a direct message on email or social media platform. No extra incentives like transportation to and from the event venue will be included.

Entrant agrees to grant the sponsor and their respective successor, assigns and licences the right to use such Entrants, entry or submission, name, likeness, biography information in any and all media for any purpose, including without limitation, commercial advertising and promotional purposes as well as in , on, or in connection with the Giveaway or other promotions, and hereby release the Sponsor from any liability with respect thereto, unless prohibited by Nigeria Law.
 Note: You can make extra money through referral to our Selfie Mirror Photo Booth, click to find out more
           The most popular event that its tickets are in high demand, click to know more  
           Most popular comedy with high tickets demand in Lagos this week, click to find out  
           Find out more events that just came in, click to choose      
 For further information, please contact us on info@allevents.ng or 08077395323