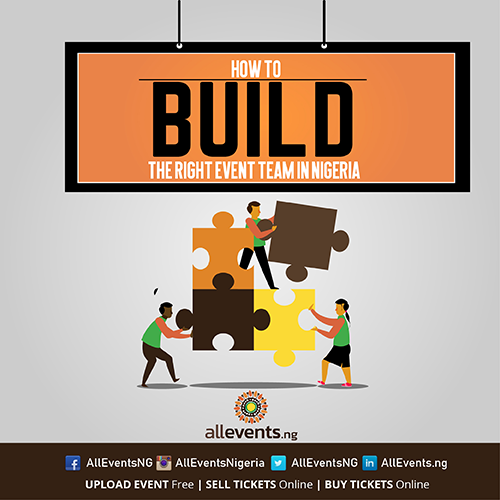 How To Build The Right Event Team In Nigeria
Are you an Event Manager in Nigeria? Want to excel as a professional in the Nigerian Events industry? There are helpful tips on how to build the right event team that you want to work with.
If you enjoy being in charge of planning, organizing, and executing all types and sizes of events in Nigeria, like musical concerts, food festivals, conventions and so on, you're definitely treading the path of an event manager. Even event services such as decoration, ushering, catering need to have teams in order to make service delivery efficient. On a larger scale, business events, fairs and exhibitions, summits would require a larger dedicated team as well. Anywhere your event is happening in Nigeria, you want to make sure that you beat the expectation of sponsors, partners and most importantly attendees.
Familiar with the term 'two heads are better than one'? This saying is ageless! Handling all the various important aspects of any event, irrespective of the size and type, requires that you have a strong and well prepared event team behind you. Having a team makes it working more fun and more productive.
So, this will bring up the question of 'How to build the right event team?' because it is always a huge struggle for event managers. These are a few tips to keep in mind…
1. First, identify all the aspects of the event, such as venue booking, publicity, catering, environment control and so on. Then group these aspects by relevance and similarity. For example, if you are planning a sporting event in Nigeria, venue booking, setup team, risk management, signage, environment control can all come under venue management. Then you can create the role 'Venue Manager/Coordinator'.
2. Once you have done the first part, it would be easy for you to know how many persons you need on the event team and what you expect from them. Please bear in mind that the size of the event can also determine the number of persons you need on the team, even if you have willing members you must be sure that they are able to take up additional roles.
3. Be on the lookout for persons who are creative and competent, enjoy what they do and working as a team. Before you assign any role to anyone confirm that the person has basic skills in handling all the aspects you have grouped together under the role. You can request for documentation of previous events they have handled to verify their competency. For typical naija events, people already have it at the back of their mind that there would always be a flop in any aspect. So if you select a creative and competent event team, it would be easier to put heads together to foresee possible flops and create strategies for preempting.
4. Once you have decided on your team members, you must also walk each person through your expectation and the objectives of each aspect of the event that has been assigned to them. They all must be well informed about the overall goal. You should also provide well detailed documentation of all these so they can always go back to it.
5. Build personal relationship with every member of your team. This is the best way to get to know them on a personal level and this in turn would improve interaction, understand their strengths and weaknesses. You would be able to get the best out of your event team and get more results.
These tips might seem simple but if you properly adopt it for Nigerian events you are managing or hosting, you would see positive results. Don't forget to upload your event on AllEvents.ng . See 11 Ways To Improve Event Service Experience In Nigeria.