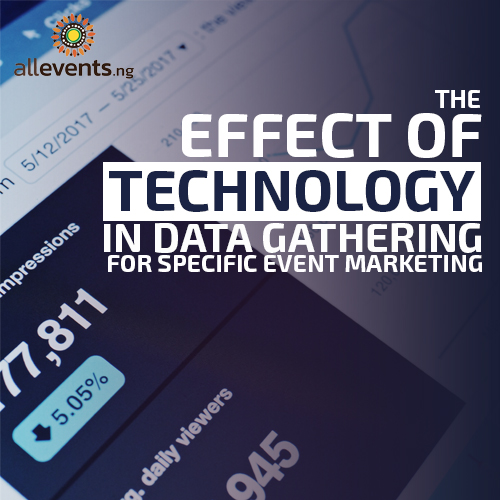 The Effect of Technology in Data Gathering for Event Marketing
17/08/2018
The success of an event marketing requires proper analysis of information, data and metrics​ provided by the attendee through event registration, lead retrieval, session tracking and exhibitor experiences
which are gathered through different technology platform such as event website, email, social media, survey, mobile apps, Selfie Mirror Photo Booth, virtual reality etc.  Leveraging on data gathered from an event with the use of modern technology is a way to increase return-on-investment (ROI) in the event industry in Nigeria and to improve event marketing methods to yield higher results. However, the majority of the data gathered from most events in Nigeria are rarely shared among the event organisers, the brand partners and exhibitors. Event data can be divided into two types: The Primary data and the Secondary data. The Primary data is a data collected directly by the source while Secondary data is a data collected through other sources. The data collected can be before the event "pre-event" or after the event "post-event", but it should give the event organizers better knowledge about their clients and great commercial asset for their business.
What is Event Marketing and why is it important?  Event marketing is a marketing strategy deploy to promote a brand, service, product through personal engagement. The event marketing strategy can be through face-to-face contact between companies and their customers at special events like concerts, fairs, and sporting events in order to reach the following goals: increase brand awareness, educate the customer about their new products, increase sales or for lead generation.  The big brands in Nigeria use special event show like AY-Show, Ali-Baba Show to market their product to the consumers through direct advertisement at the venue of the show, use interactive display or direct hand to hand sampling of their products to get exposure, collect data, connect with attendee and drive engagement. (This 2017 survey of consumers & brands on the power of experiential content creation, capture & sharing might also interest you!)
As an event organizer or marketers in Nigeria, you will have set goals which you aim to achieve at the end of an event. These could be to increase attendee registrations, increase tickets sales, get event website referral, increase mail pool, social media mentions or likes and exposure. If you are thinking of achieving the first-three of the set goals above in Nigeria (increase attendee registration, get event website referral, increase tickets sales) and you need a website to achieve that. I will recommend Allevents.ng website. (click to read more about the website online registration features)
However, if your aim is from fourth to the sixth goal on the list, you will need a creative technology to achieve it, especially during the event. You can use event engagement tech like Sli.do which allows attendees to interact with the event using their own mobile device. You can also use the AllEvents Selfie Mirror Photo Booth, an interactive user-friendly gadget for events to increases users engagement, exposure of brand or products to attendee and spread the message beyond the venue of the event.
 How would you know the Effect of data gathered and Proof of ROI to your set goal before and after the event?
 Here are some of the yardsticks to use to calculate your return on investment (ROI) base on some of the set goals mentioned above
Online registration, Tickets sales, Website Referral:

 

Does the event planning platform has all the features you need for the event and does it keep your event cost low? The kind of cost to consider in this case may be the cost of printing invitation cards which can be reduced directly if you can send your event invitation through the event planning platform. Did your event experience an increase in the sale of tickets when compared to the previous events? Did the event have more exposure through a visit on the website to its users? Did the event platform help to spread your event to other referral or sales partner for maximum visibility and thereby increase the number of attendees? Do you know where your event customers are based? Can you track where you have most of your customers for an effective future plan for other events?
Increase mail pool, Social media mentions or likes and Brand Exposure: Were you able to capture and verify all the emails of the attendee before and after the event? Did you mine other data like phone contact that were not captured before or during the event? Did your brand social media followers or likes increase? Were your products mentioned online? Did your products get shared across most social media handle? Where you able to reach more people and spread the event beyond the venue? The event tech gadget deployed for this purpose with analytics received after the event should be able to help you come to a conclusion on ROI.
For more resources on Measure on Event ROI, kindly read here
Whatever event data gathering technology that you decide to use before, during or after the event should help you get accurate figures on most of the points mentioned above. This is a goldmine for those that understand the power of the database.
Big companies like Facebook understand that and the company rakes in millions every time anyone put up an advert on their social platform for a specific market target. So, if you have to invest in getting an effective data gathering technology for an event in Nigeria, we recommend you use Allevents Selfie Mirror Photo Booth. You can segment the data after use, pull it to CRM software like Zoho, Salesforce or anyone available to you and use it to conduct a survey, send mail, send specific adverts or as leverage to bring in bigger sponsors-partners for your event. Data acquired through this process can be used to promote your brand, spread your company information and update your subscribers.
For any additional information kindly write to us info@allevents.ng